Order the Garage Records Price and Reference Guide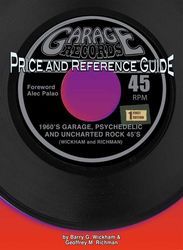 The first edition of
Garage Records Price & Reference Guide: 1960's Garage, Psychedelic & Uncharted Rock 45's
by Barry Wickham and Geoffrey Richman is available and can be purchased as follows:
Payment methods include:
1. Check or Postal Money Orders - Please make checks and money orders payable to Geoffrey Richman and send to:
Geoffrey M. Richman
P.O. Box 1307
Mill Valley, California 94942
Phone: (415) 310-6960
Please include $59.00 plus the appropriate shipping costs (see below), and sales tax for California orders, and of course the shipping address for the book.
Shipping costs are as follows:
U.S. orders $5.00 each copy shipped media, insured
Overseas orders $21.00 each copy shipped first class, international
Canada orders $13.00 each copy
California residents please add $4.96 sales tax for each copy
2. Paypal Account or Credit Card Payments - Payments can by made using your credit card, bank account, or Paypal balance through your Paypal account. Please contact Barry Wickham via email at
vinylnut7@comcast.net
or phone (707) 765-9334.
For questions specifically about orders, please contact us at (415) 310-6960 or through email at:
sales@garage45priceguide.com
© 2023 Geoffrey M. Richman and Barry G. Wickham. All rights reserved.